He is an Analyst and a Diver – Joseph Cini's Key to Success is to Adopt a Risk-Based Approach
"As a diver, I experience first-hand the effects of over-fishing in our seas and irresponsible littering which ends up as marine debris." Joseph Cini, who works at the MFSA as an Analyst with the FinTech & Innovation team speaks with us about his love for diving, marine life and the protection of our waters.
1. How long have you been diving and doing clean-ups?
I have been diving for over a year now. Apart from recreational diving, I thought of combining my passion for diving with the passion for protecting Malta's waters. Numerous Maltese NGOs and other activists organise several clean-ups throughout the year, which provides divers  like myself with the opportunity to collect marine debris and trash while still enjoying a dive underwater.
2. Which was the best experience since you started this hobby?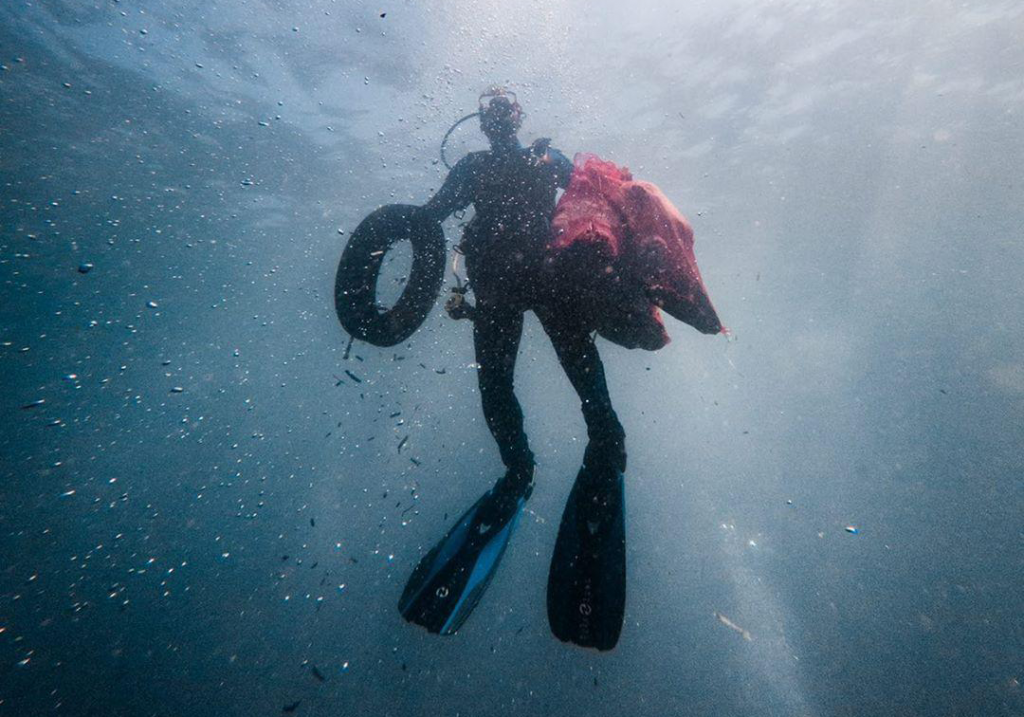 Since starting this hobby, I had the opportunity to go on a diving trip to the Philippines. This was, by far, the best experience yet! I was able to appreciate first-hand the beautiful dive sites that this destination offers, including wrecks, incredible coral beds and an extremely thriving marine environment, particularly the fantastic sardine run - a giant black ball made up of millions of sardines continuously changing shape and formation above you.
On the other hand,  safeguarding our seas during clean-ups allows other fellow divers and myself to take action. As divers, we want to dive in pristine waters, to be able to enjoy our local seas without discovering pollution (in its many forms). This is exactly what these clean-ups allow us to do - it's about giving back - and that's a whole experience in itself.
3. And your worst experience?
We hear a lot of stories about diving, particularly negative ones related to underwater incidents. Thankfully, I have not experienced anything of the sort so far. I always try to dive with experienced fellow divers, with whom we can plan the dive well and not take unnecessary risks. In case anything happens down in the deep blue, it is imperative not to panic and find your buddy immediately!
4. How did all this start?
My dad has always been an avid diver, so this interest has been ingrained in me since I was young. I was always fascinated by the sea and used to go snorkeling whenever I had some free time. I always wondered what else could be down there, particularly after hearing how sought-after Maltese diving sites are by the international diving community.
Through some further encouragement by a friend of mine, who had been diving for quite some time, I  finally (literally!) took the leap and became a certified diver so that I could enjoy these fascinating diving sites myself, particularly the beautiful wrecks located all around the island.
5. How many hours of clean-up/ diving  on average?
Diving involves a lot of time even before you are actually underwater. A lot of the time is spent planning, gearing up, and maintaining tools and equipment. However, I always try to fit in at least a couple of dives a month during the diving season, more so during summer. I also try to participate in organised clean-ups whenever the opportunity arise because I feel I should  do my part for the environment and the Maltese seas.
6. How do you juggle your work at the MFSA, diving and clean-ups and family life?
Whilst my work and personal life take a lot of time out of my limited 24 hours every day, I still try to keep a healthy work-life balance, especially by setting time apart to pursue my hobbies. Diving, particularly, allows me to let go of any busy thoughts in my mind and escape from reality into a completely different world.
7. Give me one word to describe what this hobby gives you?
Thrill
8. Is there a message that you wish to share about Malta's marine environment?
Whilst we are increasingly being exposed to several awareness campaigns and promotions to safeguard our environment, I think that more should  be done. As a diver, I experience  first-hand the effects of over-fishing in our seas and irresponsible littering which ends up as marine debris.
All of us, even sometimes unwittingly, contribute towards this state of affairs. Every piece of plastic we make use of, be it plastic bags, straws, food wrappers and what have you, risks ending up in the ocean. In the recent clean-up that I participated in, organised by 'Zibel' (a Maltese NGO), we collected around 907kg of waste from the sea floor - and there's heap more left!
We need to implement a change of approach. Unfortunately, we have gone beyond the point where sustainability is enough - we now need to implement processes related to regeneration rather than sustainability. We need to leave our environment in a better state than we found it. And for this I urge you to do your part!
Joseph Cini forms part of the FinTech & Innovation Team within the Strategy, Policy & Innovation function of the Malta Financial Services Authority ('MFSA'), working on the implementation of the MFSA FinTech Strategy and the strategic objectives under each of the six pillars identified therein.
Joseph graduated with a Master in Accountancy from the University of Malta in 2017.