Vast Majority of Motorists Failed to Read their Policy's Terms and Conditions, MFSA Survey Finds
A majority of consumers (55%) failed to read their policy's terms and conditions, while 22% of those who did, found them difficult to understand, a consumer study conducted by the MFSA has found.  The study, "Motor Insurance: Consumer Research on Attitudes and Behaviour",  also showed that 66% of respondents were lacking in their knowledge of what to do if they felt their complaint was not handled well by their policy provider. On a more positive note, the vast majority of motorists are happy with their car's insurance policy because the study found that 90% of consumers are satisfied or very satisfied with their insurance policy.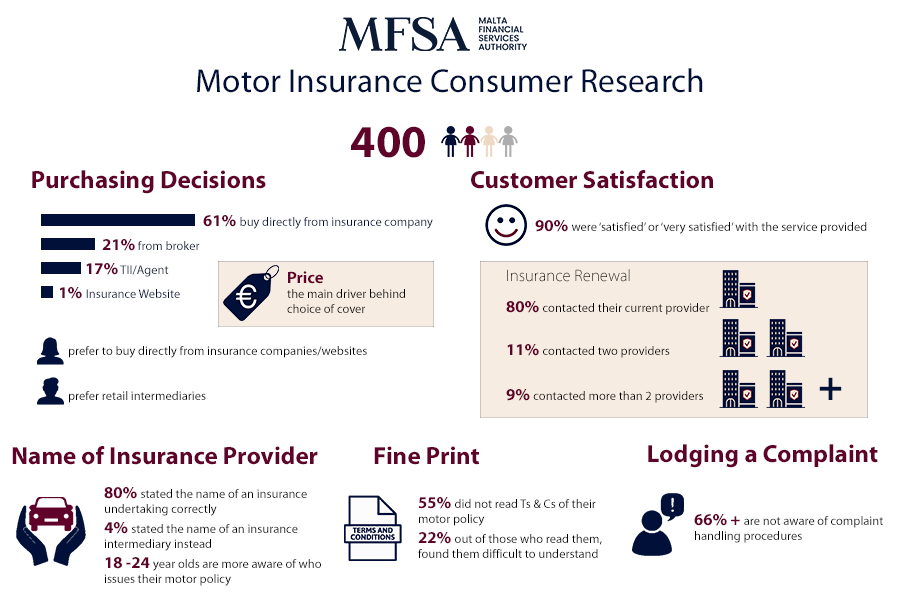 The research was one of the regulator's Conduct Supervision deliverables which it laid out in its 2019-2021 Strategic Plan. It was based on a survey, carried out last November, amongst 400 motor insurance policy holders. Among the main findings, the survey indicated that 61% of consumers purchased their motor insurance policy directly from an insurance company, while 21% used a broker. Interestingly, women demonstrated a preference for buying directly from insurers, while men preferred using intermediaries. Price emerged as the main factor in choosing a provider, with 32% saying they looked at cost when deciding which company to insure their car with.
The MFSA will be examining the survey results further to address deficiencies highlighted in its findings.