Performance of Investment Funds
The Financial Stability Function has published its semi-annual analysis containing key statistics relating to the investment fund industry in Malta as well as in the EU and globally, including a trend analysis of the registered funds, net asset value and asset allocation. What follows is a summary of the main statistics set out and commented upon in the said analysis.
As at 30 June 2020, there were 566 funds domiciled in Malta, a decline of 39 funds from 31 December 2019. Moreover, 63 Alternative Investment Funds (AIFs) were recorded in the list of notified AIFs as this product type continues to gain ground and this seems to be a segment poised for further growth notwithstanding the current market environment.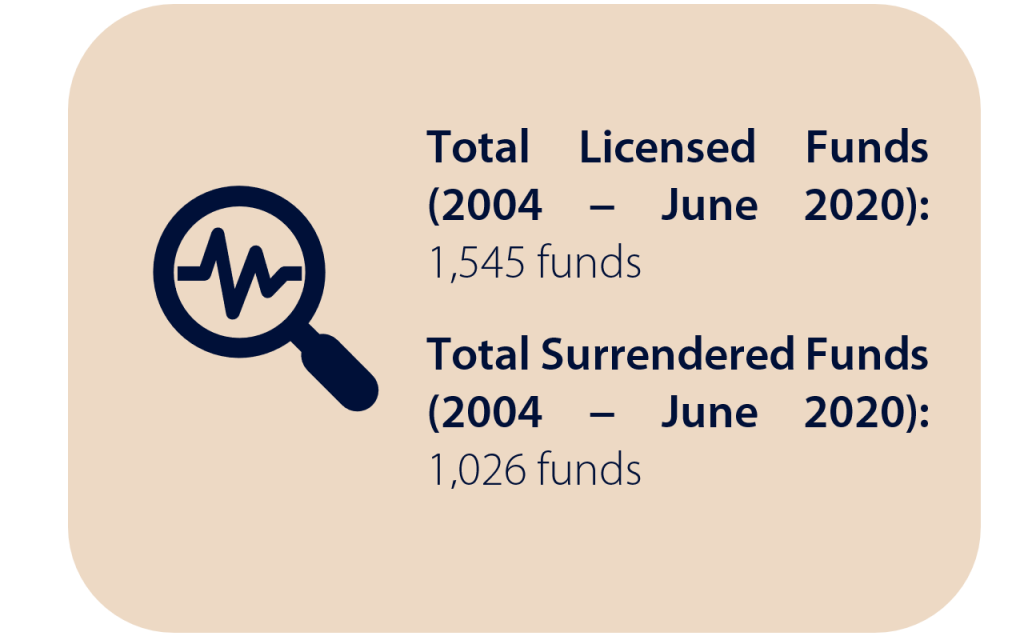 Licensed and surrendered funds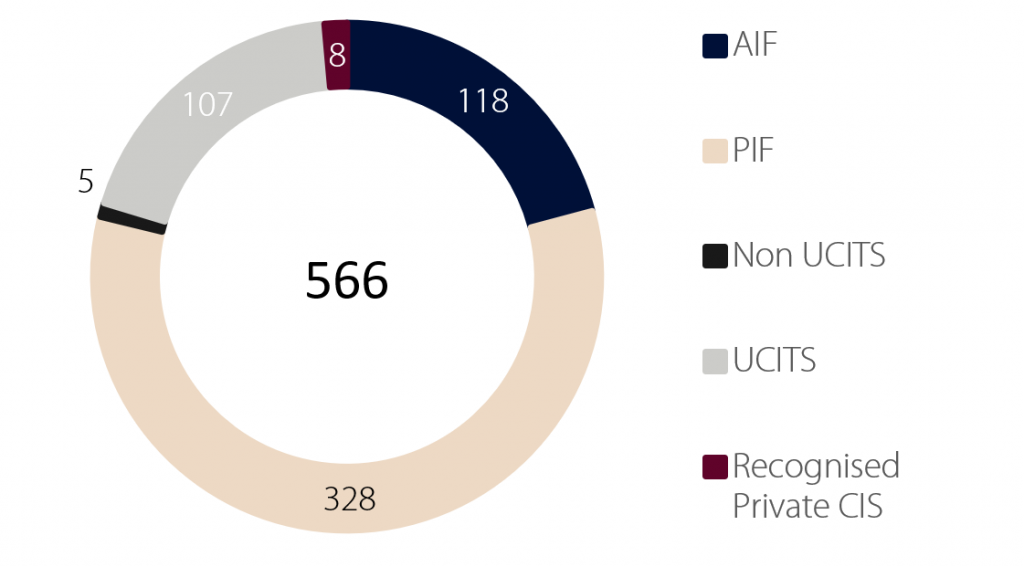 Number of funds by type of licence
The aggregate net asset value (NAV) of Malta domiciled funds declined by €1 billion to €14.9 billion or by 6.3 percent over the period 31 December 2019 to 30 June 2020. Accordingly, this decline was mainly driven by the performance of the underlying markets, mainly as the result of the coronavirus pandemic. In fact, apart from net outflows of €407.9 million, funds experienced negative revaluation adjustments of €643.7 million.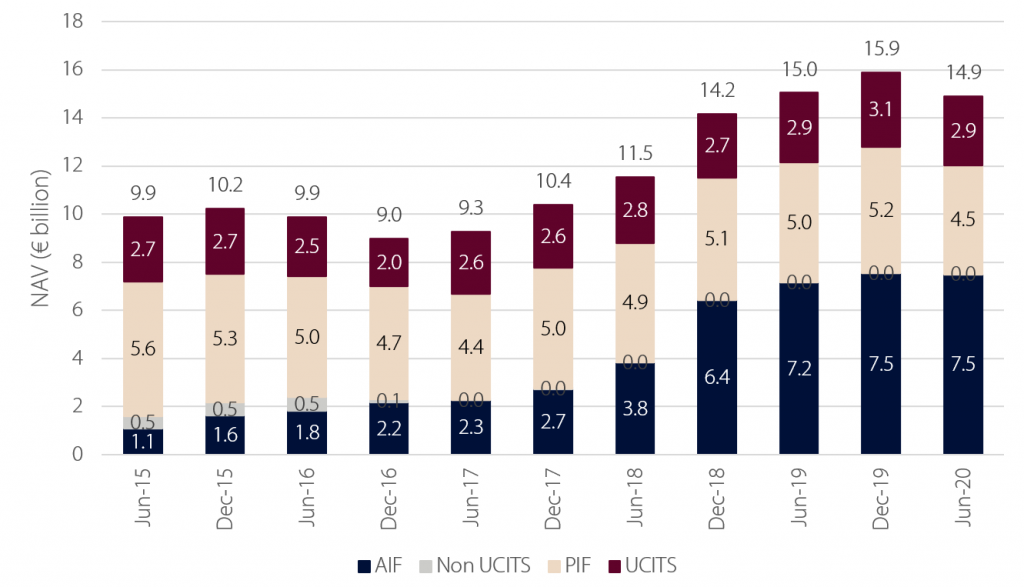 Total NAV by type of licence
Diversified funds are the most popular type of funds followed by equity funds and bond funds.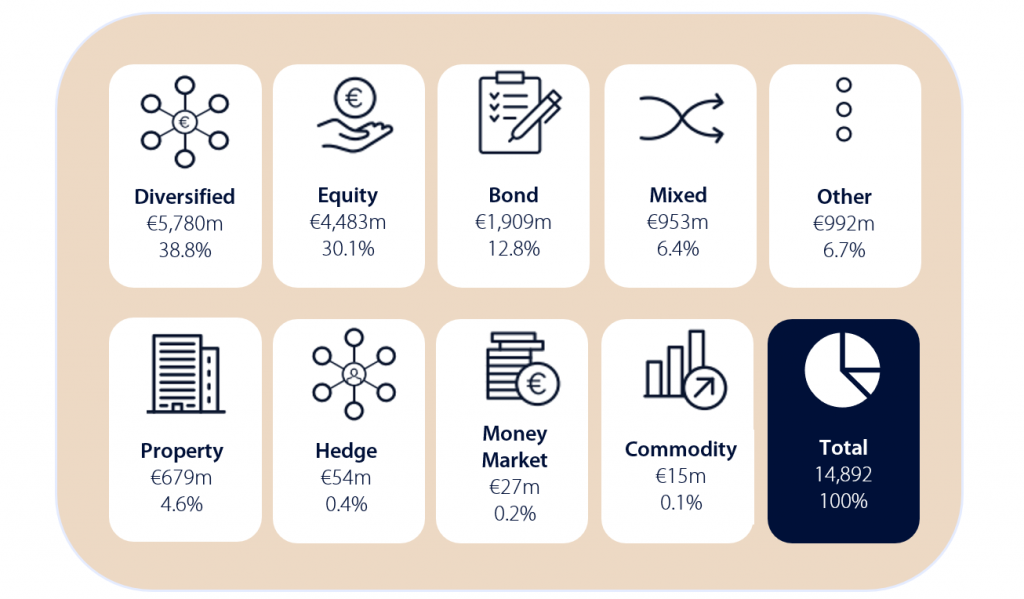 NAV by Asset Allocation (€m and %share)
As at 30 June 2020, 76.3 percent of the funds were managed in Malta, of which 38.3 percent were managed by a Maltese third party fund manager. The remaining 23.7 percent of the funds were managed from outside of Malta.
With regard to fund administration, 88.5 percent of the funds domiciled in Malta were administered by a Maltese fund administrator. Furthermore, Maltese fund administrators service a total of 147 non-Malta domiciled funds, with an aggregate net asset value of €2.3 billion.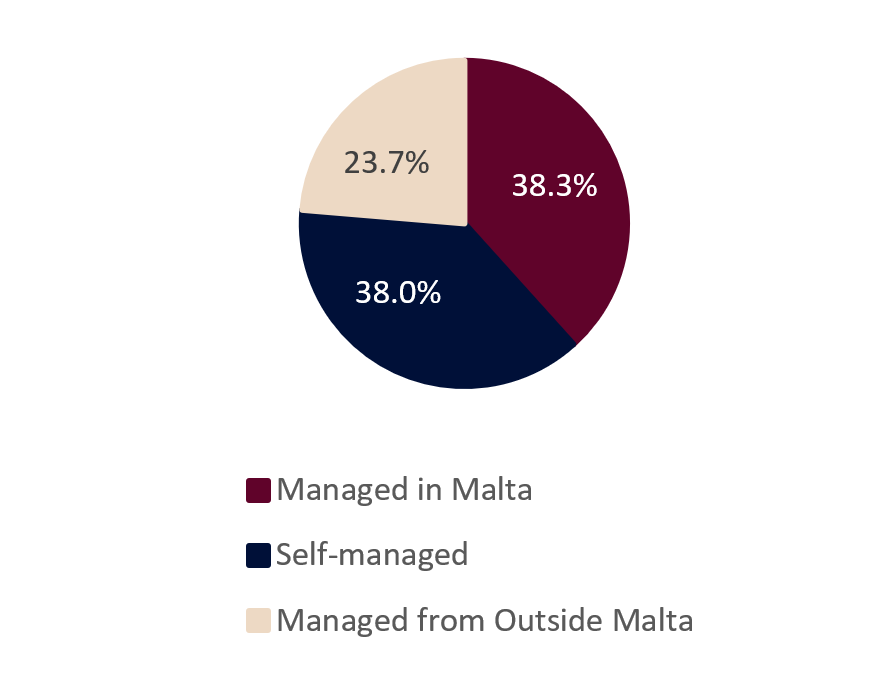 Management of locally based CIS (June 2020)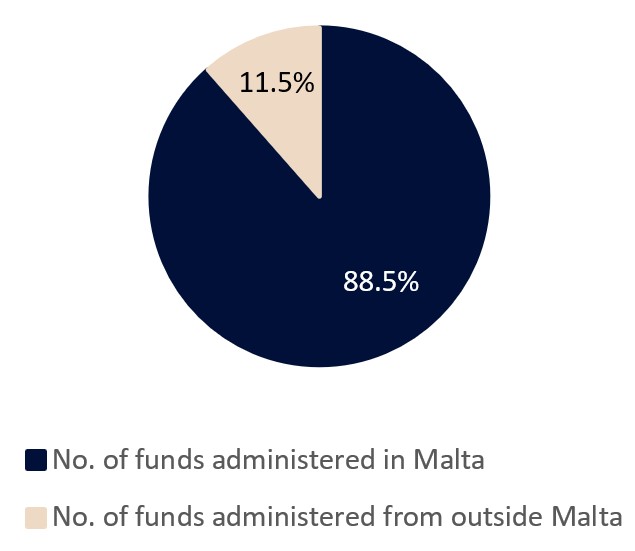 Administration of locally based CIS (June 2020)
At an international level, the number of registered worldwide regulated open-ended funds reached 137,690 in March 2020, an increase of 0.7 percent from end 2019. Net assets decreased by 10.8 percent, from €52.7 trillion as at December 2019 to €47 trillion as at March 2020. Net inflows increased by 95.1 percent when compared to the first quarter of 2019, from €316.1 billion in March 2019 to €616.8 billion in March 2020.
At a European level, the total number of registered funds stood at 63,291 as at March 2020, up by 0.3 percent from end 2019. Net assets declined by 11.3 percent in the first quarter of the year, from €17.7 trillion as at December 2019 to €15.7 trillion as at March 2020.

Source: European Fund and Asset Management Association (eFAMA)
In conclusion, although the Malta fund industry recorded an attrition in terms of the number of funds, it is pertinent to note that whilst the total Net Asset Value in Malta recorded a decline,  this drop is more contained, in percentage terms,  than that recorded in the European and global fund industries.
It is clear that 2020 has been a challenging year for the fund industry in general. That said, in Malta we have seen areas such as the Notified AIF segment which are recording good growth as well as in the other service providers space, where recognised fund administrators continue to service a good number of non-Malta domiciled funds.
Click here to view the full report.