MFSA Warning - Bitcoin Future
The Malta Financial Services Authority ("MFSA") has become aware of an entity by the name of Bitcoin Future. This entity appears to present the same deceitful characteristics as another entity, Bitcoin Revolution, against which the MFSA has already issued public warnings on 25 January 2019 and on 29 August 2019.
Such entities have been constantly resurfacing on the internet as adverts, and are operating under various names. These fake adverts claim to provide a "Way to build your life better" and a "Unique opportunity for Maltese", and are currently operating through the following internet addresses: https://bit.ly/2IS0YeT and https://bit.ly/2IOE7ks.
Bitcoin Future is promoting itself by means of fake news articles which misuse images of local personalities and images of local government institutions. The fake articles are advertised on various social media platforms and falsely claim to be linked to these individuals.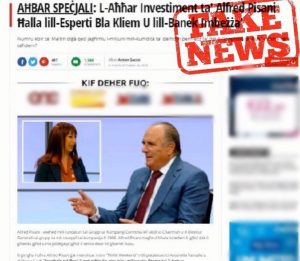 Bitcoin Future is NOT a Maltese registered Company, NEITHER is the entity operating under the transitory provision in terms of Article 62 of the Virtual Financial Assets Act (Cap 590 of the Laws of Malta) NOR is it authorised to provide any financial services in or from Malta.
Furthermore, information available to the MFSA suggests that Bitcoin Future is likely to be an international "get-rich-quick" cryptocurrency scam. The public should therefore refrain from undertaking any business or transactions with the entity operating under the abovementioned names.
The MFSA strongly advises investors and consumers of financial services that prior to making any investment or entering into any financial services transaction they should make sure that the entity with whom the investment or transaction is being made is authorised to provide such services by the MFSA or another financial services regulatory authority as applicable.
A list of entities licensed by the MFSA can be viewed on the official website of the MFSA at https://www.mfsa.mt/financial-services-register/ .
For more information on cryptocurrency scams please refer to the Scam Detection Guidelines issued by the MFSA at https://www.mfsa.mt/consumers/scams-warnings/typical-scams/. If you are a victim of a cryptocurrency scam or any other type of financial scam or think you might be dealing with an unauthorised entity, first of all stop all transactions with the company and contact the Authority at https://www.mfsa.mt/about-us/contact/ as soon as a suspicion arises.
Verżjoni bil-Malti
L-Awtorità għas-Servizzi Finanzjarji ta' Malta ("MFSA") tixtieq tavża lill-pubbliku dwar entità bl-isem ta' Bitcoin Future. Din l-entità tidher li għandha l-istess karatteristiċi qarrieqa ta' entità oħra, Bitcoin Revolution, li dwarha l-MFSA diġà ppubblikat twissijiet lill-pubbliku fil-25 ta' Jannar 2019 u fid-29 ta' Awwissu 2019.
Dawn l-entitajiet qed jerġgħu jitfaċċaw fuq l-internet bħala riklami u qed joperaw taħt ismijiet differenti. Dawn ir-riklami foloz isostnu li jistgħu jipprovdu "Mezz biex tibni ħajtek aħjar" ("Way to build your life better") u "Opportunità unika għall-Maltin" ("Unique opportunity for Maltese"), u fil-preżent qed joperaw permezz tal-indirizzi elettroniċi li ġejjin: https://bit.ly/2IS0YeT u https://bit.ly/2IOE7ks.
Bitcoin Future qed tippromwovi lilha nifsha permezz ta' artikli ta' aħbarijiet foloz (fake news) li jużaw, b'mod qarrieqi, immaġini ta' personalitajiet lokali u istituzzjonijiet governattivi lokali. L-artikli ta' aħbarijiet foloz huma reklamati fuq diversi pjattaformi soċjali u jsostnu b'mod falz li huma marbuta ma' dawn l-individwi.
Bitcoin Future MHIX kumpanija reġistrata Malta, MHIX qed topera taħt id-dispożizzjonijiet tranżitorji skont it-termini tal-Artikolu 62 tal-Att dwar l-Attiv Finanzjarju Virtwali (Kap 590 tal-Liġijiet ta' Malta) U LANQAS m'hi awtorizzata biex tipprovdi ebda servizzi finanzjarji minn f'Malta jew ġewwa Malta.
Aktar minn hekk, informazzjoni disponibbli għand l-MFSA tindika li Bitcoin Future aktarx li hi skema qarrieqa (scam) ta' 'cryptocurrency' internazzjonali li tħajjar individwi biex "isiru sinjuri malajr". Għaldaqstant, konsumaturi tas-servizzi finanzjarji m'għandhomx jidħlu f'negozju jew tranżazzjonijiet mal-entità li topera taħt l-ismijiet imsemmija hawn fuq.
L-MFSA tappella lill-konsumaturi tas-servizzi finanzjarji biex ma jidħlu f'ebda transazzjoni ta' servizzi finanzjarji qabel jaċċertaw lilhom infushom li l-entità li magħha qed issir it-transazzjoni hija awtorizzata li tipprovdi dawk is-servizzi mill-MFSA jew minn xi regolatur ieħor tas-servizzi finanzjarji kif applikabbli. Investituri għandhom ukoll jaġixxu b'kawtela massima meta jsirulhom offerti ta' servizzi finanzjarji b'metodi mhux konvenzjonali bħal telefonati jew permezz tal-midja soċjali.
Lista ta' entitajiet liċenzjati mill-MFSA hija disponibbli fuq is-sit uffiċjali tal-MFSA fuq https://www.mfsa.mt/financial-services-register/.
Għal aktar informazzjoni dwar scams marbuta mal-munita virtwali, jekk jogħġbok ara l-iScam Detection Guidelines maħruġa mill-MFSA fuq https://www.mfsa.mt/consumers/scams-warnings/typical-scams/. Jekk inti vittma ta' xi scam marbuta ma' muniti virtwali jew kull tip ta' scam finanzjarja oħra, jew taħseb li jista' jkollok  x'taqsam ma' entita' li mihiex awtorizzata jew xi tip ta' ingann finanzjarju, waqqaf kull tranżazzjoni ma' din l-entita' u ikkuntatja l-MFSA fuq https://www.mfsa.mt/about-us/contact/ hekk kif ikollok xi suspett.