MFSA Warning - Scam Calls
The Malta Financial Services Authority ("MFSA" or "the Authority") has become aware that a number of individuals have received unsolicited calls via social media mobile applications. The caller profile of these calls or missed calls appear to be received from 'MFSA'. The calls may appear to be received from a foreign number or may not appear at all.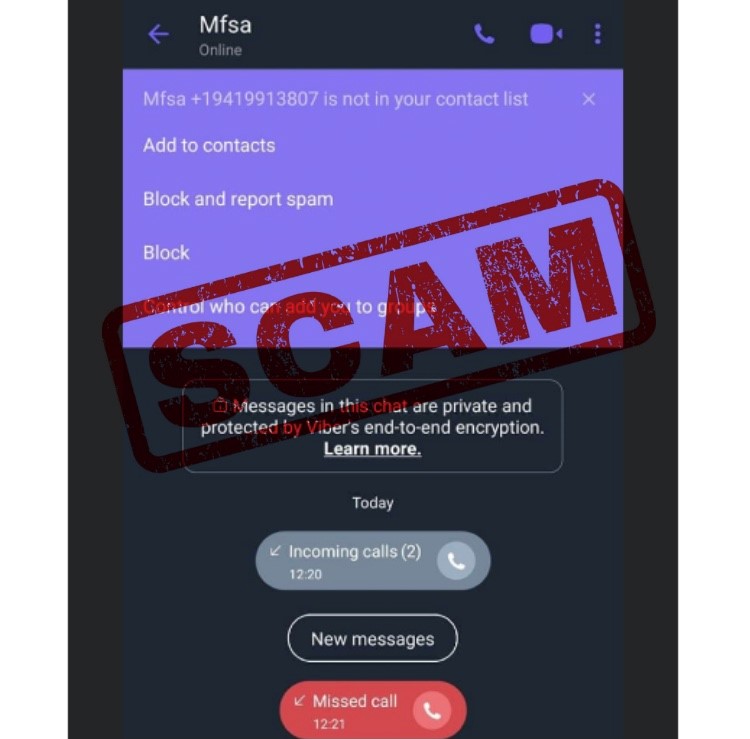 It appears that the callers might be asking the consumers to provide their bank details or otherwise their bank account will be blocked. The MFSA wishes to inform the public, in Malta and abroad, that these calls do NOT originate from the Authority and it likely relates to a scheme of dubious nature with a high risk of loss of money. The MFSA hereby alerts the general public to never provide such sensitive and confidential information over social media, email or other means to unknown individuals.
It should be noted that the Authority communicates with the public only through official channels. Similarly, banks or other government institutions do not contact consumers through such means.
The MFSA would like to remind consumers of financial services not to enter into any financial services transaction unless they have ascertained that the entity with whom the transaction is being made is authorised to provide such services by the MFSA or another reputable financial services regulator. Investors should also be extra cautious when being approached with offers of financial services via unconventional channels such as telephone calls or social media.
For more information on scams please refer to the Scam Detection Guidelines issued by the MFSA at https://www.mfsa.mt/consumers/scams-warnings/typical-scams/. If you are a victim of a scam or any other type of financial scam or think you might be dealing with an unauthorised entity, first of all stop all transactions with the company and contact the Authority at https://www.mfsa.mt/about-us/contact/ as soon as a suspicion arises.
Verżjoni bil-Malti
L-Awtorità għas-Servizzi Finanzjarji ta' Malta ("MFSA" jew "l-Awtorità")  ġiet infurmata li numru ta' individwi rċevew telefonati mhux mitluba permezz ta' applikazzjonijiet mobbli tal-midja soċjali. Skont il-profil ta' min qed jagħmel dawn it-telefonati jidher li kienu telefonati gejjin mill- 'MFSA'. It-telefonati jistgħu jidhru li ġejjin kemm minn numru barrani jew minn numru li ma jidhirx.
Jidher li min qed jagħmel dawn it-telefonati jista' jkun qed jitolb lill-konsumaturi biex jipprovdu d-dettalji bankarji tagħhom jew inkella jinfurmahom li l-kont bankarju tagħhom ser jiġi imblukkat. L-MFSA tixtieq tinforma lill-pubbliku, f'Malta u barra minn Malta, li dawn it-telefonati MHUMIEX joriġinaw mill-Awtorità u x'aktarx jirrelataw ma' skema ta' natura dubjuża b'riskju għoli ta' telf ta' flus. Permezz ta' din it-twissija, l-MFSA tavża lill-pubbliku ġenerali biex qatt ma jipprovdi informazzjoni sensittiva u kunfidenzjali fuq il-midja soċjali jew permezz ta' email jew mezzi oħra lil individwi mhux magħrufa.
Ta' min jinnota li l-Awtorità tikkomunika mal-pubbliku permezz ta' mezzi uffiċjali biss. Bl-istess mod, banek jew istituzzjonijiet oħra governattivi ma jikkuntattjawx lill-konsumaturi b'mezzi bħal dawn.
L-MFSA tixtieq tfakkar lill-konsumaturi tas-servizzi finanzjarji biex ma jidħlux fi kwalunkwe transazzjoni ta' servizzi finanzjarji qabel ma jkunu aċċertaw li l-entità li magħha qed issir it-transazzjoni hija awtorizzata biex tipprovdi dawk is-servizzi mill-MFSA jew minn xi regolatur ieħor tas-servizzi finanzjarji ta' reputazzjoni tajba. Investituri għandhom joqogħdu estremament attenti meta jiġu avviċinati b'offerti ta' servizzi finanzjarji b'mezzi mhux konvenzjonali bħal telefonati jew permezz tal-midja soċjali.
Għal aktar informazzjoni dwar ingann u skemi ta' dan it-tip jekk jogħġbok irreferi għal-Linji Gwida maħruġa mill-MFSA fuq https://www.mfsa.mt/consumers/scams-warnings/typical-scams/. Jekk int vittma ta' qerq jew xi tip ieħor ta' ingann finanzjarju, jew taħseb li tista' tkun qed tittratta ma' entità mhux awtorizzata, waqqaf kull transazzjoni ma' din l-entità u ikkuntattja lill-Awtorità fuq  https://www.mfsa.mt/about-us/contact/ hekk kif ikun hemm suspett.